GREN NORRIS, UK – GOULD AWARD WINNER 2016

Gren Norris receiving his award in the presence of Grant Findlay (WBO Vice Chairman), Ghalib Al-Nasser (WBO Secretary), Carlos Ramôa (WBO Chairman) & Gerd Bleicher (WBO Immediate Past Chairman)
Gren received his award in recognition of his long service to the fancy for over 60 years (since 1954) as a breeder of top quality budgerigars both in the normal varieties as well as the specialist & rare varieties and he is a well respected judge. He served on the Budgerigar Society General Council for 23 years and their past President. Very successful exhibitor with his wife Pat winning major awards at all the top shows including the B.S. Club Show. He shares his wealth of knowledge by helping newcomers to the hobby in the form of lecturing all over the country.
GERD BLEICHER, GERMANY – GOULD AWARD WINNER 2015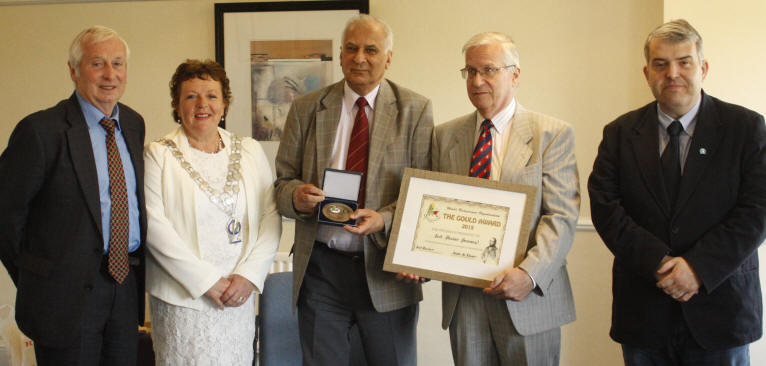 Gerd Bleicher (WBO Chairman) receiving his award in the presence of Roger Carr (WBO immediate Past Chairman), Beverley Hutt (B.S. President), Ghalib Al-Nasser (WBO Secretary) and Carlos Ramôa (WBO Vice Chairman)
Gerd received his award, after being nominated by two countries, for his outstanding contribution to his German society the DSV; acting in many positions including chairman of the society from 1968 to 1972, 1973 to 1979 and continuously since 1998. His vast contribution as a writer in many magazines internationally, as well as lecturing around the world was also taken into consideration. He has been WBO Chairman since 2006, promoting the hobby world-wide. Also he was recognised as a breeder of excellence in promoting many varieties, in particular the Anthracite variety, and as an international judge.